Company Foundation
Pete Howard took up kayaking in 1970 as an activity on the path to the Duke of Edinburgh Award scheme at Silver Level. The activity took a firmer hold and sadly the Silver and Gold awards never materialised as a result. Working to become a British Canoe Union Coach and introducing others to the sport became his focus until 1980 when a keen interest in slalom kayaking took hold.
Recreation white water kayaking took up most of his spare time when not competing in slalom. Through all of the 1980s and 1990s Pete was heavily involved in the sport at many levels.
In 1987 Pete set up the Paddle Sport retail business and playing canoe polo became one of his main interests soon afterwards. It was not long before the Streamlyte paddle brand and Combat polo kayaks were in production and the interest in producing polo products has been an important part of the business ever since. While retailing remained the main focus of the business for many years the manufacturing elements gradually increased until the
Paddle Sport retail interest was sold in 2006 and Paddle Sport Designs took over. Canoe Polo Zone was eventually started as a direct sales link to the UK canoe polo community to maintain the many contacts made by Pete over the years.
Pete was chairman of the Stratford On Avon Kayakists (SOAK) club for more than 10 years, and for much of that time organised up to three BCU Ranking Slalom events each year. He joined the (British) Association of Canoe Trades (ACT) ultimately becoming Chairman of the Association.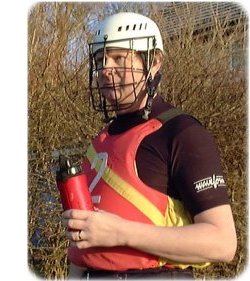 During that time he sat on the International Canoe Exhibition organising committee for several years and was also a regular trade exhibitor at the show.  When canoe polo took over from slalom as his main competitive interest, he was instrumental in organising the first three outdoor British National Canoe Polo Championships after the loss of the indoor Crystal Palace venue when the International Exhibition moved away from London. 
Today the business demands leave little time for paddling and what time he has is spent in his polo kayak still competing regularly for his Club in the UK National League and at International Tournaments.